ECONOMY
NYC Says Variant Level Steady; J&J Shot Found Safe: Virus Update
(Bloomberg) — Johnson & Johnson's Covid-19 vaccine is safe and effective, U.S. regulators said, a key milestone on the path toward giving Americans access to the first shot to work in a single dose.
Switzerland will allow non-essential shops, museums and outdoor sporting facilities to reopen next month, the first of several steps to unwind social-distancing restrictions. Israel, meantime, will impose a three-night curfew around the Purim holiday to prevent the mass spread of the virus.
Ghana received the first batch of vaccines shipped through the World Health Organization-backed Covax initiative, as the West African country prepares to kick off an inoculation campaign. China donated 200,000 more doses to Zimbabwe, while Ukraine and Malaysia began immunizations.
Subscribe to a daily update on the virus from Bloomberg's Prognosis team here. Click CVID on the terminal for global data on cases and deaths.
China Again Donates Vaccines to Zimbabwe (11 a.m. NY)
China will donate a second batch of 200,000 coronavirus vaccines to Zimbabwe, Guo Shaochun, the Chinese ambassador to the southern African nation said Wednesday on Twitter following a virtual meeting with its President Emmerson Mnangagwa. Zimbabwe began its inoculation program on Feb. 18 using the donated Sinopharm vaccines, and by Tuesday had issued shots to 4,041 front-line workers. The country expects to take delivery of an additional 600,000 vaccines it bought from China early next month.
NYC Says Variant Level Remains Steady (10:40 a.m. NY)
New York City health officials said 6% of the city's coronavirus cases are due to the U.K. variant, which is believed to be more contagious. The city said the level is "higher than they liked" but that the number has remained steady in recent weeks.
Meanwhile, the city's middle-school students will return to the classroom on Thursday, bringing New York one step closer to a semblance of normalcy since the pandemic shuttered many school buildings for nearly a year. Mayor Bill de Blasio hasn't said when he'll reopen high schools but said an announcement could come in a matter of weeks.
Bulgaria to Reopen Bars Despite Rise in Cases (10:30 a.m. NY)
Bulgaria plans to reopen bars and restaurants with reduced capacity March 1, the health ministry said in a statement. The easing of restrictions comes despite the rising number of daily coronavirus cases, which on Monday reached the highest number since Jan. 5.
The EU country with the lowest share of vaccinated population will also allow conferences and will reopen borders for organized tourism visits.
Czech Leader Warns of 'Hellish Days' (9:57 a.m. NY)
The Czech Republic is preparing to impose a stricter lockdown to prevent the collapse of its medical system as existing measures fail to contain one of the fastest-spreading and deadliest outbreaks in Europe.
Almost exactly a year after the first Covid-19 case appeared in the country, the crisis is worse than ever and the situation requires a tougher response, Prime Minister Andrej Babis said. The cabinet will discuss more extreme rules to limit contact among people on Wednesday evening, he said.
Germany to Set Up Task Force (9:54 a.m. NY)
Germany will set up a government task force to monitor vaccine production, the Finance Ministry said Wednesday. The panel will support efforts to deliver doses to all citizens willing to be vaccinated and work closely with manufacturers in the event of supply bottlenecks.
Switzerland to Ease Lockdown (9 a.m. NY)
Switzerland will allow non-essential shops, museums and outdoor sporting facilities to reopen starting next month, the first of several steps to unwind social distancing restrictions to contain the pandemic.
With the Covid-19 case load falling, the government has faced pressure to allow businesses to reopen. Officials have urged caution, however, due to the spread of new strains of the coronavirus which are considered to be more transmissible.
J&J Shot Found Safe, Effective, by FDA Staff (8:22 a.m. NY)
Johnson & Johnson's vaccine is safe and effective, FDA staff said before a review by external advisers. If cleared for use, it would be the first single-dose shot available.
The vaccine was 72% effective in a U.S. clinical trial, FDA staff wrote in a document summarizing the company's trial data. Agency officials prepared the document ahead of a meeting Friday where external advisers will make a non-binding recommendation as to whether the vaccine should be authorized.
Mozambique to Receive First Vaccines (8:04 a.m. NY)
Mozambique will receive its first Covid-19 vaccines Wednesday, from China's state-owned Sinopharm, to be administered to health workers. The donation of 200,000 doses will be received at an airbase in Maputo, the capital, the office of Prime Minister Carlos Agostinho do Rosário said.
South Africa Vaccine Funds (7:09 a.m. NY)
South Africa's National Treasury set aside funds to provide free coronavirus vaccines to all those who need them, as the nation races to bring the pandemic under control.
An allocation of 10.3 billion rand ($708 million) has been made to buy and dispense the shots through March 2024, the Treasury said Wednesday in its annual budget statement. A further 9 billion rand could be allocated if needed, it said.
Ukraine Starts Virus Jabs (6:51 a.m. NY)
Ukraine, the biggest European country yet to start vaccinations against the coronavirus, administered its first shot on Wednesday.
Yevhen Horenko, an emergency doctor in Cherkasy in central Ukraine, received an AstraZeneca vaccine, along with nine other people, according to the Health Ministry. The government plans to inoculate about 370,000 people, mainly doctors and nurses, in the first round of immunization.
FDA Staff to Submit Report on J&J Shot (6:49 a.m. NY)
U.S. Food and Drug Administration staff will submit their report Wednesday on Johnson & Johnson's experimental Covid-19 vaccine in advance of a Friday meeting where the agency's outside advisers will decide whether to recommend it for clearance.
Unlike two-dose vaccines from Moderna Inc. and the partnership of Pfizer Inc. and BioNTech SE that were cleared in December, J&J's is given in a single shot and doesn't need to be stored in a freezer. Trial data showed it was 72% effective in the U.S. in preventing moderate to severe symptoms, and 66% effective overall in a global trial. It was 100% effective in preventing hospitalization and death.
Israel to Curb Holiday Merrymaking (4:14 p.m. HK)
Israel will impose a three-night curfew around the Purim holiday, and has prohibited related parties, shows and parades to prevent the mass spread of the virus.
Beginning on Thursday night, residents will be prohibited from venturing more than one kilometer (0.625 mile) from their homes and entering other people's houses between 8:30 p.m. and 5 a.m. Last year, the festivities led to a surge in virus cases that preceded the first of the country's three lockdowns.
Ghana Receives First Covax Vaccine Shipment (4:08 p.m. HK)
Ghana took delivery of its first consignment of Covid-19 vaccines on Wednesday, as the nation prepares to roll out an immunization program next month. The shipment was the first under the WHO-backed Covax initiative, which aims to deliver almost 2 billion doses this year.
Health Minister Kwaku Agyeman Manu received the 600,000 doses of AstraZeneca Plc vaccine at a ceremony in the capital, Accra. The nation has been allocated 2.4 million shots under the Covax program.
Vietnam Receives First Batch of Vaccines (3:23 p.m. HK)
The first batch of coronavirus vaccines arrived in Vietnam's Ho Chi Minh City on Wednesday to kick off the vaccination of more than 50,000 people, according to a post on a government website. The vaccines are part of Vietnam's deal with AstraZeneca to supply 30 million doses, it said.
Vietnam is also negotiating with Pfizer Inc. and BioNTech SE for 30 million vaccine doses in 2021, VnExpress news website reported Wednesday, citing Health Minister Nguyen Thanh Long.
Malaysia Starts Vaccinations (2:58 p.m. HK)
Malaysia started its Covid-19 vaccination program on Wednesday, two days ahead of schedule, with Prime Minister Muhyiddin Yassin the first to receive the shot.
The nation's health director-general, as well as several medical staff, were also among the group to receive the first Pfizer-BioNTech shots.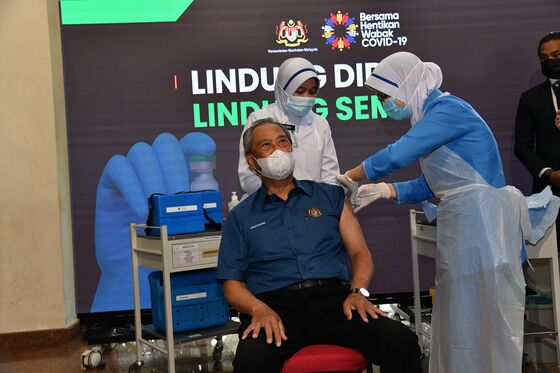 Taiwan to Ease Entry Ban (2:44 p.m. HK)
A ban on non-resident foreign nationals will be eased from March 1, allowing short-term business travelers from lower risk areas to apply for five to seven days of quarantine, Taiwan Centers for Disease Control said. The entry ban has been in place since Jan. 1 and also applies to airline transit passengers.
Pace of Indonesia Vaccinations Lags Target (2:12 p.m. HK)
Six weeks into its vaccination program, Indonesia has administered more than 2 million Sinovac Biotech shots with no reports so far of serious adverse effects. The elderly are starting to get their doses after the country inoculated frontline workers, including those in healthcare and the military.
The pace of vaccinations remains slow at about 50,000 a day, far short of the 500,000 needed to reach Indonesia's target of more than 180 million this year. Bureaucracy remains a hurdle as registration requires multiple steps and health facilities limit numbers to avoid crowds.
Philippines Expects Sinovac Shots Next Week (1:38 p.m. HK)
The Philippines is due to receive its first vaccine shipments from Sinovac Biotech by Feb. 28 and can start inoculations a day after, presidential spokesman Harry Roque said. The Chinese drugmaker said it needs a week to prepare the delivery and is coordinating with the Philippine customs bureau.
President Rodrigo Duterte is "perplexed" with the local regulator's decision not to recommend Sinovac shots to health workers, Roque said.
Hong Kong Vaccination Rollout (1:15 p.m. HK)
Hong Kong is expected to start Pfizer-BioNTech vaccinations as early as March 8, with registrations starting next week, TVB reported, citing unidentified people. Meanwhile, appointments for the Sinovac shot, which arrived in the city first, are fully booked for the next two weeks.
China Accepts CanSino's Vaccine Application (12:59 p.m. HK)
CanSino Biologic Inc. said its application for conditional approval of its Ad5-nCoV vaccine, jointly developed with the Chinese military, has been accepted by China's drug regulator. A single dose has an overall efficacy of nearly 69% against all symptomatic Covid-19 disease after 14 days and a 95% rate against severe disease in the same period, the Tianjin-based company said.
Late stage trials have been carried out in Pakistan, Mexico, Russia, Chile and Argentina, and the vaccine has been approved for emergency use in Mexico.
Vaccines Arrive in Thailand (12:15 p.m. HK)
Thailand received its first vaccines from Sinovac Biotech, while another batch from AstraZeneca is due later in the day. The 200,000 doses from Sinovac and 117,000 from AstraZeneca allow the nation to start its vaccination drive within a week and will be distributed to healthcare and front-line workers. Thailand has ordered 2 million doses from Sinovac and 61 million from AstraZeneca.
Hong Kong Budget Pledges (11:53 a.m. HK)
Each permanent resident over the age of 18 will get coupons of HK$5,000 designed to be spent in shops, bars and restaurants, which have been badly hit by the pandemic and enforced closures. Financial Secretary Paul Chan's budget also includes reductions to salaries tax and electricity subsidies.
The budget "aims to alleviate the hardship and pressure caused by the economic downturn and the epidemic through the introduction of counter-cyclical measures costing over HK$120 billion," Chan said. He also said Hong Kong would continue discussing travel bubbles with countries.
For more on the budget, please click here.
Most Related Links :
todayprimenews Governmental News Finance News