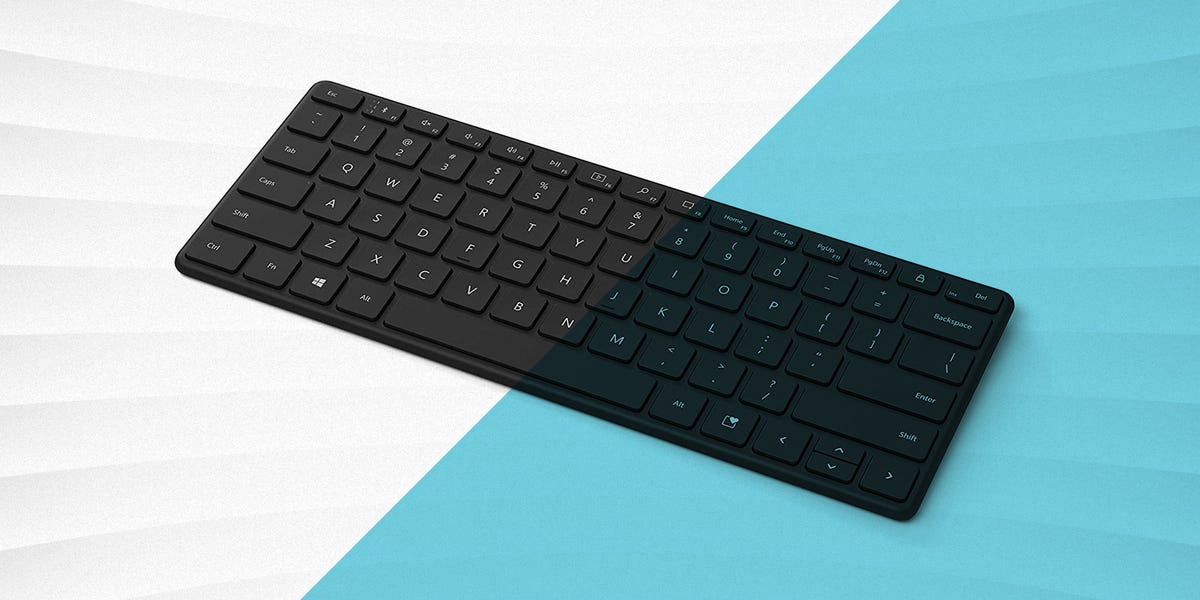 News
8 Best Wireless Keyboards
Staff, Courtesy of Microsoft
A good wireless keyboard will keep your desk neat and your fingers moving fast and comfortably. Wireless keyboards are ideal for pairing with laptops at workstations, so you can put the screen at a proper height and still have a keyboard in easy reach. They are also great for travel, as they tend to be more compact than their wired counterparts. The best wireless keyboards don't function or feel any different than wired versions, but keep in mind that you'll need to charge them or swap batteries every once in a while.
Specs to Consider
Pretty much any wireless keyboard will work for most applications, but there are some extra features you might want to consider before you make a purchase. Keep in mind what you want to do with your keyboard. Will you be gaming or primarily word processing? A keyboard that's better for one may be sub-par at the other.
Size: When it comes to keyboards, size matters. Some keyboards are specifically meant to be small and light for travel or commuting. A full-size keyboard can be a joy to type on, but it can take up a lot of valuable space on your desk or in your luggage. Gamers can often get away with smaller-than-average keyboards, as they do less typing. Prolific writers, on the other hand, should steer toward bigger keyboards, which provide plenty of room for your hands to spread out and hit the keys comfortably.
Mac or Windows: Also, keep in mind whether you are a Mac user or a Windows user. While most keyboards can be used on either operating system in a pinch, there are special characters that are intended to work with either Mac or Windows, and some keyboards won't have all functions outside their preferred OS.
Gaming and other functions: Most higher-end wireless keyboards include dedicated media and macro keys which are useful for quickly controlling things like volume and launching apps. Some keyboards also have the ability to connect to multiple devices with the press of a single button. Some gaming keyboards include customizable RGB lighting and software that lets you configure the keys for gaming.
Connection: Wireless keyboards use either Bluetooth or a 2.4GHz radio-frequency (RF) connection to connect to your computer. The primary advantage of Bluetooth models is that they will easily connect out of the box with almost any modern device.
Some manufacturers claim that RF models have less keystroke lag than Bluetooth, which can be important for applications like gaming where every millisecond counts. The 2.4GHz RF standard also offers a stable connection and, at times, a near-imperceptible amount of typing lag. But no desktop or laptop has built-in support for these keyboards; you need a USB receiver key (usually included) to connect the keyboard to your computer.
There's a special type of keyboard meant specifically if you're connecting a media PC to your TV. These entertainment keyboards often have an integrated touchpad. They are handy for controlling the functions on your TV but tend not to be great for extensive typing.
Keyboard shape and features: If your wrists or hands get sore, you might want to consider an ergonomic keyboard that is u-shaped, and some people claim can be more comfortable and reduce repetitive stress injury. I'm a fan of the ergonomic keyboard, but keep in mind that the different shape can take some time to get used to.
Backlighting: Many wireless keyboards offer backlighting both for aesthetics and to make it easier to see the keys in dim lighting. Some of the more expensive keyboards offer adjustable backlighting so that you can choose the right amount of light for your environment and also save on battery life.
Power supply: All wireless keyboards need their own power supply. Most of the better ones these days have internal, rechargeable batteries. Keep an eye out for claimed battery life, which will vary with use. Modern keyboards should offer at least twenty hours of use, although that can be extended by turning off backlighting.
Membrane or Mechanical: Some wireless keyboards use membrane or mechanical key switches. Membrane keyboards have a rubber dome at the bottom of the key while mechanical keyboards use a physical switch. Both kinds of keyboards offer more movement in the key when you press it, which some people find more comfortable to use.
How We Selected
Wireless keyboards have been a favorite computer accessory of mine for more than 15 years. I've owned dozens of wireless keyboards over the years and currently rotate between four. I write about technology and other subjects for publications, including the Los Angeles Times, The Guardian, Reuters, and other places. As a journalist who often taps out thousands of words per day on a keyboard, I'm incredibly picky about the setup I use and am constantly testing new models.
---
Best for Mac Users
Logitech MX Keys
Logitech
amazon.com
$98.81
• Size: Full-size
• Battery type: Rechargeable
I recently bought the MX for my new iMac M1 and can't recommend it enough for Mac users. It handily beats the standard Apple Magic Keyboard in almost every way. The keys are much more comfortable to use. It's also illuminated for those times when you want to type in less than ideal lighting conditions. 
Best Combo Keyboard/Mouse
Microsoft Sculpt Ergonomic Wireless Keyboard and Mouse
Microsoft
amazon.com
$97.00
• Size: Full-size ergonomic
• Battery type: Disposable batteries (2 AAA)
If you're looking for an ergonomic keyboard and mouse combination for a Windows machine, you can't go wrong with this model from Microsoft. It's generously sized for typing comfort and has just the right amount of feedback when you tap on the keys. 
Most Ergonomic
Logitech Ergo K860
Logitech
amazon.com
$170.14
• Size: Full-size ergonomic
• Battery type: Disposable (2 AAA)
The K860 is the rare wireless keyboard that includes a wrist rest. The manufacturer claims its curved shape will reduce strain on your wrists and forearms. The keyboard has an adjustable palm lift that can be tilted to put your hands in a more comfortable position while you type. Logitech makes ergonomic mice as well.
Ergonomic design reduces strain on wrists and forearms
Includes wrist rest
Some users may not like split-keyboard design
Not rechargeable
Best for Gaming
ASUS ROG Falchion Wireless
• Size: Compact
• Battery type: Rechargeable
This gaming keyboard offers a compact shape to save desk space but packs in high-end specifications. It's got an interactive touch panel designed to make it easy to adjust personal settings and customize controls. The Falchion also includes RGB lighting control to spice up your gaming sessions. 
Includes RGB lighting control for a bettery gaming experience
May be too small for some users
Best for Small Spaces and Travel
Microsoft Designer Compact Keyboard
• Size: Compact
• Battery type: Disposable (4 CR2032)
This simple but elegant keyboard is a great choice for people on the go or those who don't have a lot of desk space. At 4.63 x 11.41 x 0.85 inches, it's small enough to fit almost anywhere but still has enough space between the keys to make typing comfortable. It uses four small coin-cell batteries which are not rechargeable, but claimed battery life is up to 36 months.
Runs on four disposable watch batteries
Most Stylish
Apple Magic Keyboard
• Size: Full-size
• Battery type: Rechargeable
This keyboard is an obvious choice for Mac users and offers a compact design and compatibility with the Mac OS as well as iOS devices like the iPad and the iPhone. It's crafted out of aluminum for a high-quality feel, although the shallow key travel may take some getting used to, and the low-battery warning doesn't give you a lot of notice. 
Rechargeable
Works with other iOS devices
Shallow keys may take some getting used to
Best Value
Logitech MK345 Keyboard and Mouse Combo
• Size: Full-size
• Battery type: Disposable (2 AAA keyboard, 1 AA mouse)
This keyboard comes with a matching mouse at a reasonable price. It's got a solid feel and keys that offer a comfortable amount of travel. There's also a built-in wrist rest. The MK345 works on an RF connection and comes with a receiver.
Comes with right-handed mouse
Best for TV Use
PONYBRO Backlit Mini Wireless Keyboard
PONYBRO
amazon.com
$18.95
• Size: Compact
• Battery type: Rechargeable
If you want a really compact wireless keyboard, you might as well go all the way. The PONYBRO packs an entire keyboard and mouse into a shape about the size of an iPhone. You won't be typing a novel on this thing, but it's easy enough to slip into your pocket or stash on a media console if you want a way to tap passwords into a smart TV or media center. The PONYBRO uses a 2.4G wireless connection, USB dongle included. 
Use it to easily search movies on TV streaming apps
This content is created and maintained by a third party, and imported onto this page to help users provide their email addresses. You may be able to find more information about this and similar content at piano.io
Most Related Links :
todayprimenews Governmental News Finance News