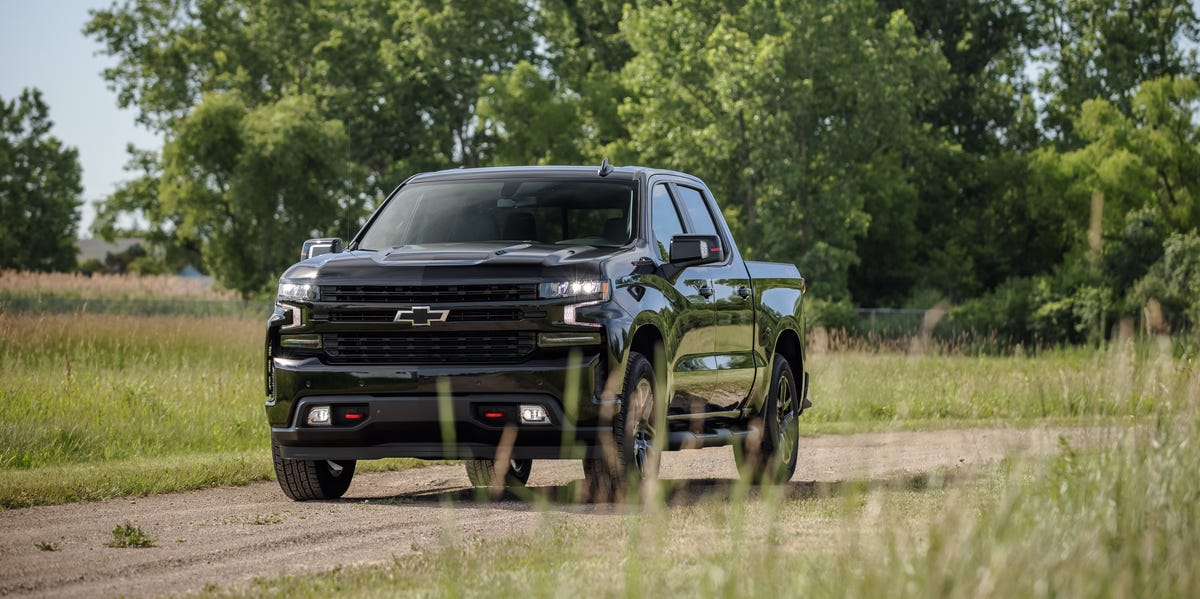 Automobile
View Photos of the 2021 Chevrolet Silverado 1500 RST
Michael SimariCar and Driver
The Chevy Silverado 1500 is available with engines that include a turbocharged four-cylinder, a diesel V-6, and even the long-serving 4.3-liter V-6. But the quickest trucks are powered by the 6.2-liter V-8 with 10-speed automatic transmission.
1 of 51
Our RST was nicely equipped with $7445 in options including heated seats, a heated steering wheel, LED lights, and body-colored trim. This unlocks the option for the 6.2-liter V-8, which costs $3890.
2 of 51
Our crew cab 4×4 RST ran to 60 mph in 5.4 seconds and finished the quarter-mile in 14.0 seconds at 100 mph.
3 of 51
The Redline package includes blacked-out trim with red accents plus black 20-inch wheels. Skipping it would save $3280.
4 of 51
The Silverado's composed handling is a testament to GM's adept suspension tuning because there's nothing too sophisticated about the hardware.
5 of 51
The RST's 6.2-liter isn't the same one in the Corvette, but it sure sounds similar as it runs up through the gears.
6 of 51
In the RST, the 6.2-liter V-8 is a $2495 option over the 355-hp 5.3-liter V-8, and that price also includes an upgrade from an eight-speed automatic to a 10-speed.
7 of 51
The Silverado's interior looks like a manifestation of GM cost-cutting.
8 of 51
There are clever touches inside, such as the hidden storage compartments in the seatbacks.
9 of 51
A single toggle switch on the dash can roll down all four windows.
10 of 51
The Multi-Flex tailgate has six positions. Beware opening it to the step position when using a trailer hitch.
11 of 51
2021 Chevrolet Silverado 1500 RST
12 of 51
2021 Chevrolet Silverado 1500 RST
13 of 51
2021 Chevrolet Silverado 1500 RST
14 of 51
2021 Chevrolet Silverado 1500 RST
15 of 51
2021 Chevrolet Silverado 1500 RST
16 of 51
2021 Chevrolet Silverado 1500 RST
17 of 51
2021 Chevrolet Silverado 1500 RST
18 of 51
2021 Chevrolet Silverado 1500 RST
19 of 51
2021 Chevrolet Silverado 1500 RST
20 of 51
2021 Chevrolet Silverado 1500 RST
21 of 51
2021 Chevrolet Silverado 1500 RST
22 of 51
2021 Chevrolet Silverado 1500 RST
23 of 51
2021 Chevrolet Silverado 1500 RST
24 of 51
2021 Chevrolet Silverado 1500 RST
25 of 51
2021 Chevrolet Silverado 1500 RST
26 of 51
2021 Chevrolet Silverado 1500 RST
27 of 51
2021 Chevrolet Silverado 1500 RST
28 of 51
2021 Chevrolet Silverado 1500 RST
29 of 51
2021 Chevrolet Silverado 1500 RST
30 of 51
2021 Chevrolet Silverado 1500 RST
Advertisement – Continue Reading Below
This content is created and maintained by a third party, and imported onto this page to help users provide their email addresses. You may be able to find more information about this and similar content at piano.io
Most Related Links :
todayprimenews Governmental News Finance News