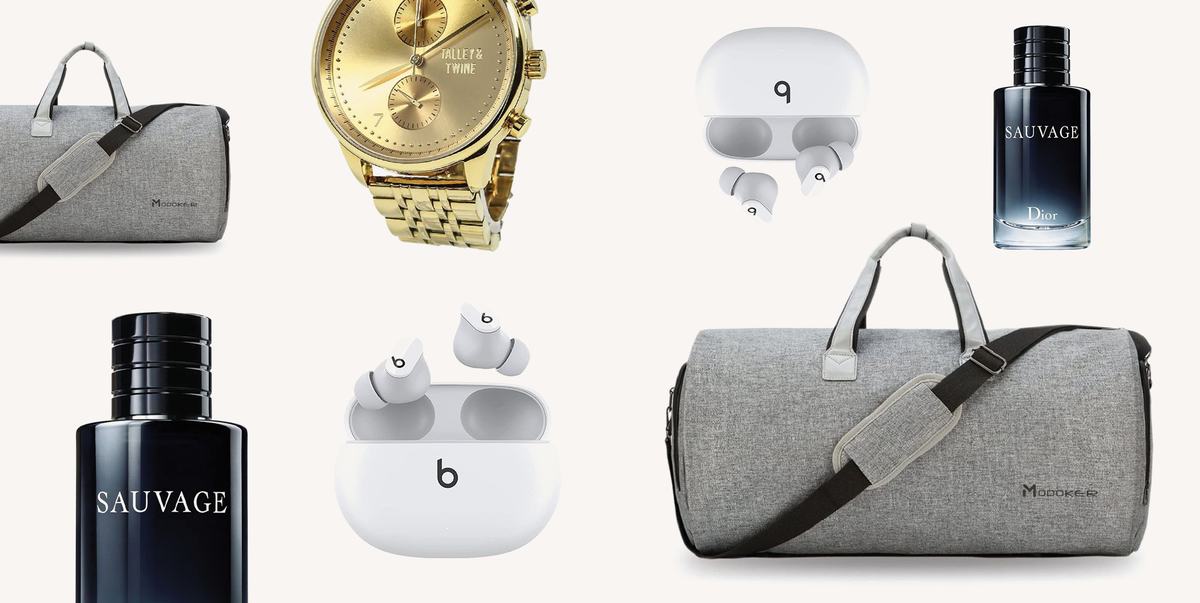 Entertainment
These Cool Gifts for Your Brother Will Make You His Fave Damn Sibling
Shopping for a sibling ain't easy, and that's definitely an understatement. You might know your sister or brother better than anyone else (they're basically a built-in best friend), but that doesn't mean you know what to get them for their birthday, a special occasion, or any other major milestone in their life. If you need a little guidance in the gift department, we've gotcha covered. Consider this the ultimate guide full of ideas—no matter what he may like.
Maybe your bro is a ~teen boy~ who's into tech gadgets and music. Or maybe your bro's a college student who could use a new backpack or pair of shoes for running across campus. Or maybe your brother's a recent college grad who loves to entertain and needs help stocking up his new kitchen and bar cart. Whatever the case, we've got plenty of great gift suggestions that brothers of all ages and interests would like. So stop stressing and start scrolling through the 40 (told ya we had plenty) best gifts for brothers, below. At least you can now cross your brother off the list and start brainstorming ideas for your other family members.
Advertisement – Continue Reading Below
1
this phone case
Gameboy Case for iPhone XR,Handheld Retro 36 Classic Games
WeLohas
amazon.com
$18.98
If you're shopping for a brother who lived through the '80s and '90s, this nostalgic phone case with 36 games will remind him of his absolute favorite gift as a kid.
2
this tasty condiment
Small Batch Bourbon Maple Syrup
Bushwick Kitchen
food52.com
$24.99
If the guy's a foodie, he'll love drizzling this syrup (which has been aged in charred American oak bourbon barrels) over meats, in cocktails, and of course, on waffles.
3
this beard trimming catcher
Beard Bib Beard Apron
Part gag gift, part serious gift. If you and your brother share a bathroom, this tarp for catching beard trimmings is totally passive-aggressive and totally perfect for a gift idea.
4
this cord organizer
Electronic Organizer
BAGSMART
amazon.com
$25.99
Not only can this travel bag fit multiple chargers, cables, and batteries, but it can also even fit a whole iPad inside. It's the perfect gift for the brother who can't go anywhere without all of his devices.
5
these earbuds
Studio Buds
He would be forever grateful if you got him these noise-canceling earbuds that allow for 8 hours of listening time. 
6
this funny gift
Big Ass Brick of Soap – Smells Like Productivity
Duke Cannon Supply Co
ulta.com
$7.99
If you and your bro are constantly giving each other a hard time, a funny bar of soap is something he'll get a kick out of, as well as a lotta use.
7
these slide sandals
Men's Big Logo Techloom Slides, Navy
APL: Athletic Propulsion Labs
amazon.com
$100.00
These cushioned slides are so comfy, don't be surprised if he wears them to the gym, pool, and everywhere in between.
8
these soft-baked cookies
Chocolate Chip Cookie with Gooey Marshmallow and Crunchy Cornflakes
Milk Bar
amazon.com
$16.71
Get your brother what he really wants: A box of delicious cookies that are the perfect balance of crunchy, gooey, and chewy. Actually, make that three boxes with this trio set that comes with four two-packs inside each carton.
9
these house slippers
Men's Gino-2 Slipper
These shearling house shoes feel like *heaven* on tired feet. But if your brother's more of a slippers guy, the backs of these purposely fold down to make putting them on even easier.
10
this grooming gift set
Complete Beard Kit
Shea Moisture
amazon.com
If your brother's a beard guy, he needs this set of grooming products to keep it looking nice and healthy. Inside the gift box, he'll find a cleanser, detangler, conditioning oil, and balm to keep his chin hairs feeling soft and looking shiny.
11
this classic timepiece
Worley Chronograph Watch, Gold
Talley & Twine
amazon.com
$235.00
A stainless steel watch in an all-gold finish will look mighty good on his wrist—and, hopefully, keep him on time.  
12
this tasting set
Spiegelau Craft Beer Tasting Kit
crate and barrel
crateandbarrel.com
$40.99
Your brother will love drinking his favorite IPA, American wheat, stout, and barrel-aged beers in these glasses that were specifically designed for the four different types.
13
this button-down shirt
Men's Relaxed Cotton Shirt
A dress shirt that works for any occasion (like a wedding, the office, a night out—the list goes on) would be most appreciated.
14
this duffel bag
Convertible Garment Bag with Shoulder Strap
Modoker
amazon.com
$43.99
From the outside, this carryall looks like your typical sleek duffel bag. But once your brother opens it up completely, he'll find that it transforms into a garment hanging bag with lots of genius compartments.
15
a pair of versatile shorts
Men's Flex Pro Jersey Tulum Trunk
Good Man Brand
amazon.com
$98.00
You can never go wrong with a few solid basics, and he can wear these comfy, stretchy slim-fit shorts pretty much anywhere.
16
a meat thermometer
TP03 Digital Instant Read Meat Thermometer
Any grill pro (or aspiring one) needs an instant thermometer to make sure everything is cooked to perfection. And for less than 15 bucks, you can be the new favorite sibling.
17
this sock subscription
Surprise Pair of Socks Subscription: Crew Socks
Sock Fancy
amazon.com
$12.00
This sock subscription service will deliver a new pair of printed crew socks to his door each month—just in time to replace his mismatched pair.
18
these jogger sweatpants
Fleece Jogger Pant
Amazon Essentials
amazon.com
Sometimes you just wanna stay indoors all day and do nothing, and these fleece joggers were made for exactly that, yet they also look nice enough to wear in public with some sneakers (exhibit A: the photo here). 
19
this leather bracelet
Men's Bare Wrap Bracelet, Cafecito
Miansai
amazon.com
$95.00
If his style can best be described as casual but still classy, a simple leather cord with a stainless steel accent is the perfect everyday accessory.
20
this hardware organizer
The Bucketeer Bucket Tool Organizer in Brown
Bucket Boss
amazon.com
$17.32
The handy brother who knows how to fix everything could use one of these bucket organizers for all his tools. It's like a toolbox but lighter and easier to sort.
21
these sneakers
Mens Grand Court Tennis Shoe
adidas
amazon.com
Some classic Adidas sneakers will be his favorite pair to wear, so brace yourself because he's gonna need a new one for his next birthday. And with this style, you can choose from a million different colorways that suit his preferences.
22
this beanie
Soft Cotton Washed Beanie
Goodthreads
amazon.com
$15.00
His neglected fall/winter wardrobe needs a serious update, and a knit beanie in a classic black colorway will keep his head warm but his outfit cool.
23
this record player
Cruiser Deluxe Vintage 3-Speed Bluetooth Suitcase Turntable
Is his idea of a fun time going hunting for old records? Give him a retro-looking player that includes Bluetooth, so he can stream music, too. 
24
these modern coasters
Charcoal Concrete Coaster
MadeByRheal
etsy.com
$20.00
It doesn't matter if he has his own place or is still living at home with the 'rents, these coasters are great to keep on any coffee table or nightstand—and they look cool, too.
25
this cocktail kit
Old Fashioned Cocktail Kit to Infuse Whiskey or Brandy
You know your big bro loves a good cocktail. This clever kit will help him infuse his booze with flavor. Each pouch comes complete with all the fruits, spices, and herbs necessary for making amazinggg at-home drinks.
26
this leather belt
Reversible Belt
A leather belt with brown on one side and black on the other will get double the wear and make any of his ensembles look a little more refined.
27
this card holder
Dark Brown Leather Card Holder
KingsleyLeather
etsy.com
$96.04
A minimalist who's constantly cleaning out his wallet will really appreciate a slim cardholder that only carries the bare necessities.
28
this beard moisturizer
Beard Moisturizer
Murdock London
nordstrom.com
$32.00
Does your brother constantly talk about his facial hair? Then he'll love a fancy moisturizer. With cedarwood and eucalyptus oil, it also happens to smell great. 
29
this backpack
Heritage Backpack
Herschel
amazon.com
$60.00
Whether he's going to a coffee shop, school, work, or traveling for the weekend, he'll like a simple backpack that's compact enough for easy transport. Plus, it has multiple pockets for maximum storage. 
30
this wall art
Abstract Minimalist Modern Art
ArtbyDinaD
etsy.com
$44.48
The brother who needs help in the interior decorating department could use some handmade art to make any room seem so much cooler. 
31
these silk cufflinks
Silk Knot Fabric Cufflinks, 5-Pair Set
Honey Bear
amazon.com
$9.95
Cufflinks don't need to be super expensive to look fancy. Take this set of knotted silk ones, for instance. 
32
these sunglasses
Striped Gradient Polarized-49mm
Persol
amazon.com
$172.20
A pair of tortoiseshell frames with polarized lenses will make your bro the most stylish guy in the room. 
33
this decanter
Hatch Decanter
Crate & Barrel
crateandbarrel.com
$39.95
His signature drink is whiskey on the rocks, which means a classy decanter is definitely in order. It will look much better than a liquor bottle on his bar cart. And, even if whiskey isn't his drink, he can put literally any other spirit in there, too. 
34
this wool cap
Wool Blend Baseball Cap
MIRMARU
amazon.com
$13.99
Does he collect hats like a sneakerhead hoards shoes? Then he'll probably appreciate a soft navy cap in a cool, textured material. 
35
this smart speaker
Home Mini (1st Generation)
Google
bestbuy.com
$34.99
A speaker and an assistant in one, a Google Home Mini is the perfect size for literally any room. It plays music, can connect with his fave streaming service, and can answer basically any question. 
36
this wool tie
Bear Lake Solid Navy Tie
The Tie Bar
thetiebar.com
$22.00
A wool tie might be just the gift for him if he's always wearing jeans and a simple T-shirt and doesn't have anything for those dressier occasions. 
37
this cologne
Sauvage Eau de Toilette
Dior
saksfifthavenue.com
$77.00
He'll be fielding compliments left and right with a woodsy scent that has notes of amber and bergamot. 
38
this Nintendo Switch
Switch with Neon Blue and Neon Red Joy‑Con
Nintendo
amazon.com
$299.00
Does he spend hours holed up in his room playing endless amounts of video games? He'll probably stay in there even longer once he has the Nintendo Switch—but he'll totally thank you for it. 
Thursday Boots
amazon.com
$199.00
Chinos and a simple T-shirt can be completely transformed with stylish footwear, like these suede Chelsea boots right here. 
40
this guitar
APX600 Acoustic-Electric Guitar
Yamaha
guitarcenter.com
$299.00
Whether he's serious about pursuing music or just enjoys playing as a hobby, opt for an acoustic-electric guitar that comes with a tuner and has amazing sound-quality. 
This content is created and maintained by a third party, and imported onto this page to help users provide their email addresses. You may be able to find more information about this and similar content at piano.io
Advertisement – Continue Reading Below
Most Related Links :
todayprimenews Governmental News Finance News