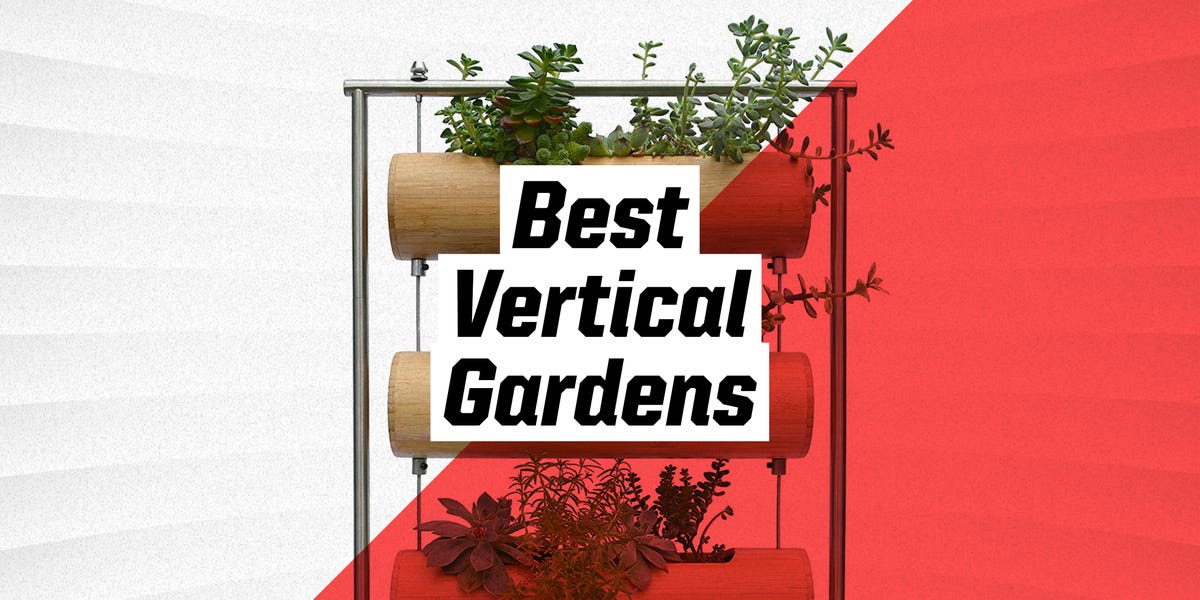 News
These Vertical Gardens Are the Ultimate Plant Lover's Dream
For those who don't have backyard space for dozens of vegetables or perennials, a vertical garden is the answer. These space-saving wonders have a small footprint and are an ergonomic way to grow everything from herbs to succulents to strawberries with no bending or kneeling required. (Stretching, maybe, but we'll call that a plus.) They're brilliant for small porches, balconies, and patios, plus—bonus—you can generally use them indoors, too, depending on light conditions and what you intend to plant. Whether you're looking for something small to add a pop of color to your outdoor setup or have more ambitious gardening goals, read on for our top recommendations.
What to Consider
Vertical gardens are often freestanding or leaning, with two to five or more tiers for planter boxes, and typically made of wood such as fir or cedar, or have a powder-coated metal frame and plastic planters. You'll want to nail down the height that works best with your space—they generally range from 2 feet high or slightly less to about 6 feet tall—and determine what size planter you need for the veggies, herbs, and flowers you plan to grow. Keep in mind that not all planter boxes have drainage holes at the bottom. Also, while building a living wall vertical garden is a monumental task that's well worth the time if you have it, there are inexpensive wall-mounted pocket gardens that mimic the look for use indoors and out.
How We Chose
Our selection includes top-rated vertical gardens in every major style and material, plus our picks span a range of price points. Every option we feature below has at least four stars, and most are given a 4.5-star rating or higher. We cover vertical gardens of various sizes, and include choices in multiple heights to suit all spaces. We also paid close attention to any mention of stability issues while combing through user reviews.
Advertisement – Continue Reading Below
1
2-Foot Metal
Arlmont & Co. Vertical Garden
Vertical gardens are excellent space-savers, but with a small backyard or patio you won't want something that towers over your seating area and fire pit table. This five-tiered petite vertical garden gives you all the benefits of a larger vertical garden minus the size. It has a black rust-resistant powder-coated steel frame, with 20-inch-long green plastic garden boxes. All are detachable for easy watering and have drainage holes at the bottom. 
2
4-Foot Metal
Outland Living Five-Tier Vertical Garden
Outland Living
amazon.com
$159.79
This vertical garden has a similar design to the one above, but it's twice as tall. The five-tier vertical garden features deeper, BPA-free green planters that are 22 inches wide, all set in a black metal frame. The planters have drainage holes on the bottom and plugs for indoor use, and come in green and brown plastic in addition to the pretty dove gray that's shown. The vertical garden gets rave reviews, with an average 4.6 stars from more than 450 customers, and several note that the frame is sturdy.
3
6-Foot Metal
Outland Living Four-Tier Vertical Garden
Outland Living
amazon.com
$179.99
For those with tall ceilings or more outdoor space, this leaning garden is an excellent choice. It's another customer favorite, with an impressive average 4.8 stars from 680 reviewers. It features four, 27-inch-wide planters that are also deep, set within a 6-foot-tall black metal frame. 
The planters are all food-grade plastic and have drainage holes and plugs for indoor use, plus they come in gray and green in addition to the lovely espresso brown ones that are shown. 
4
Small Dark Wood
Giantex Vertical Garden
Giantex
amazon.com
$129.99
$109.99 (15% off)
If you're looking for a vertical garden that feels more like a piece of furniture, a wood vertical garden is your best bet. This handsome option is constructed of solid fir with a warm, medium-brown stain. Three fixed planters that increase in depth from top to bottom, all with drainage holes on the bottom. The top two planters are tilted slightly forward to increase sunlight exposure, and the vertical garden stands at about 3.5 feet high overall. 
5
Large Dark Wood
Aivituvin Vertical Garden
Aivituvin
amazon.com
$154.99
This four-tier vertical garden is also made from fir, with a taupe stain—a much cooler, less ruddy color than what's shown in the photos. The top three V-shaped planters aren't as wide or deep as the bottom garden bed, so your flowers or veggies on the bottom will get plenty of sunlight. (Pro tip: The base is particularly good for planting root vegetables, which require deep soil.) 
There aren't any holes in the bottom of the planters—you always drill your own—but there are fabric liners included for each box, which help plants stay moist without oversaturation. The vertical garden stands at just under 5 feet tall.
6
Small Light Wood
Martrams Bamboo Vertical Garden
Martrams
amazon.com
$44.97
Priced at less than $50 at the time of this writing, this ultra-stylish, on-trend option is a steal. Crafted from bamboo, the three-tier vertical garden, perfect for planting succulents, is under 2-feet tall but makes a big impression. 
It features cylindrical planters, treated to prevent moisture damage, and an industrial-chic wire system to suspend them. There's a wide, sturdy wood base, plus the stainless steel cables are PVC-coated so they won't rust, though it's intended for indoor use. 
7
Large Light Wood
YardCraft Vertical Garden
YardCraft
amazon.com
$179.00
This light-wood vertical garden is double-sided and holds a ton of plants. Handcrafted from solid cedar, it has six shallow, angled shelves on each side—ideal for mixing herbs and ground flowers—plus a planter on top for taller varieties, including tomato plants if you secure them to stakes. It gets high marks from customers for design and quality of materials. 
The 4-foot-tall vertical garden widens at the base for added stability, and is just over 2 feet wide.
8
The Stackable Garden
Mr. Stacky Five-Tier Vertical Garden
Mr. Stacky
amazon.com
$36.95
Stackable vertical gardens like this are often associated with growing strawberries, but they work for any small plants, particularly herbs. 
Versatility of configuration and a small footprint are major benefits, plus they're easy to maintain—simply add water to the top and it trickles down. 
They're also typically budget-friendly: this green tower from the popular Mr. Stacky is priced at under $40 at the time of this writing. It stands at just over 2 feet high and is also available in a grayish-white stone color option.
9
The Wall-Mounted Garden
HilarityMax 36-Pocket Vertical Garden
HilarityMax
amazon.com
$23.50
Living walls—a large collection of tightly clustered small plants and flowers—are the original vertical garden, though they're typically time-consuming to create. 
This inexpensive wall-mounted planter will give you a similar effect, with 36 pockets to add your favorite succulents and herbs. It can be used indoors or outside, made from double-layered felt, with rust-resistant stainless steel eyelets. Each pocket is roughly 6 inches high, with a 4-inch-wide opening at the top, and the piece takes up roughly 9 square feet of wall space.
This content is created and maintained by a third party, and imported onto this page to help users provide their email addresses. You may be able to find more information about this and similar content at piano.io
Advertisement – Continue Reading Below
Most Related Links :
todayprimenews Governmental News Finance News