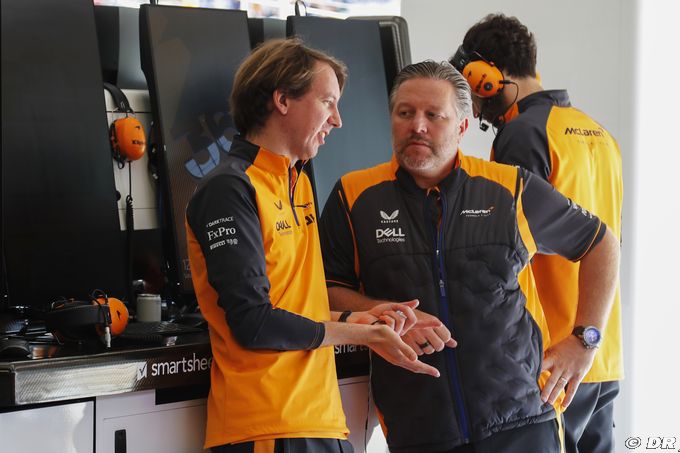 Le cas d'Oscar Piastri va-t-il changer la manière dont les équipes vont aborder la gestion des filières et des jeunes pilotes ? Zak Brown, le PDG de McLaren F1, ne le pense pas. L'Américain be aware que s'il a pu signer le jeune pilote de la filière Alpine uniquement parce que l'équipe n'avait pas de contrat.
"Non, je ne pense pas que cela alternate quoi que ce soit" indique Brown. "Je pense juste que si vous avez un pilote et que vous êtes stable, vous devez avoir un contrat avec lui. Parce que c'est très compétitif comme nous le savons et toutes les équipes cherchent toujours autour pour obtenir le meilleur expertise conceivable. Si vous n'avez pas de contrat, alors vous êtes vulnérable."
Andreas Seidl, le directeur de McLaren, s'agace des commentaires qui ont été faits au sujet de Piastri et de son équipe. Selon lui, beaucoup de critiques ont été faites sans connaissance du dossier.
"De mon côté, je pense que j'ai été un peu surpris par certains des commentaires que j'ai lus, également de la allotment de personnes qui n'avaient aucune connaissance détaillée de ce qui se passait réellement. Et je pense que certains de ces commentaires étaient donc également inappropriés et injustes" be aware Seidl.
"C'était un manque de respect par rapport à ce qui se passait. Si je me space dans une telle effort, si je ne sais ce qui s'est passé que d'un côté, j'essaie de ne pas faire de commentaires. Et je pense qu'il est également fundamental de le mentionner afin de protéger Oscar."
McLaren compte toujours sur O'Ward… et Herta
Brown be aware toutefois que la signature de Piastri ne veut pas dire que Pato O'Ward et Colton Herta ne pourront pas rouler avec McLaren. Les deux pilotes ont un contrat avec l'équipe, en IndyCar et pour le test d'anciennes voitures (TPC) respectivement, et le PDG veut avoir plusieurs pilotes en plus de ses titulaires.
"Ils ont leur programme TPC et bien sûr, nous avons besoin de faire rouler un ou deux débutants en essais libres cette année et dans un avenir prévisible. On a aussi vu des scenarios où les pilotes ont le Covid ou se blessent."
"Donc je pense que la chose responsable à faire en tant qu'équipe est de toujours avoir vos deux pilotes principaux, et des pilotes de réserve car vous ne savez jamais ce qui peut arriver et quelle opportunité cela peut créer."
Cependant, Brown libérera Herta si celui-ci obtient la Superlicence qui lui permettrait alors de piloter pour AlphaTauri l'année prochaine, comme la rumeur le dit : "Je pense que nous ne voudrions jamais retenir un pilote."
"Les pilotes de route veulent conduire, je pense que c'est admirable que quelqu'un comme Oscar reste sur la touche pendant un an. Nous avons vu Esteban [Ocon] rester sur la touche pendant un an. Mais nous voulons encourager les pilotes de route à courir."